Marshalls fundraiser for children's ward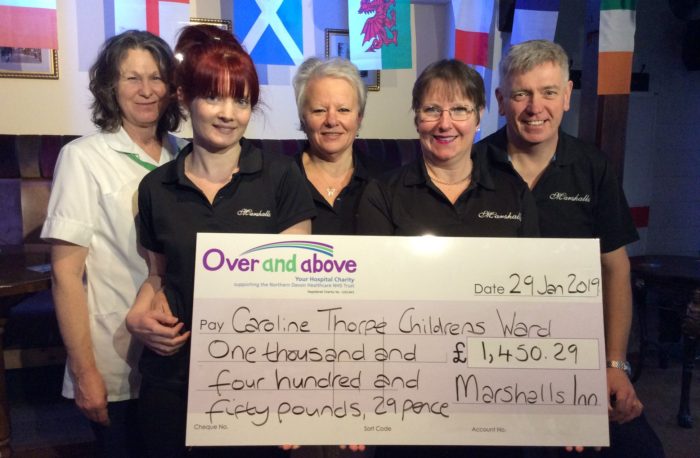 Staff and customers of Marshalls in Barnstaple have raised a fantastic £1,450.29 for the Caroline Thorpe Children's Ward in North Devon.
Team member Carol Grant has been raising funds for the Caroline Thorpe Ward for 36 years, since her daughter Tanya was treated on the unit.
Landlady Dawn Blackmore said: "We all know someone who has had a child in Caroline Thorpe and we have supported their children's ward for many years."
Caroline Thorpe Play Leader Fran Greenaway commented: "We are thrilled to receive this money as we want to purchase virtual reality glasses and an app so that children can have an insight into their visit to 'Day Surgery'. This will enable some of our patients to focus on a fun, recreational activity instead of their treatment."
Since 2014 Marshalls has raised over £10,000 for the Caroline Thorpe Ward and Seamoor Unit helping patients receive care and support over and above that which the NHS can provide.
Photographed L-R: Caroline Thorpe Play Leader Fran Greenaway and the Marshalls team of Krystal Cox, Carol Grant, Landlady Dawn Blackmore and Peter Harris.